In 2018, Cycle Hamilton reached out to all municipal council and school board trustee candidates to ensure that cycling was a priority during the local election. We conducted an online survey and worked with volunteers to host a series of bike ride in order to identify opportunities and challenges for cycling. The City of Hamilton plays a crucial role in making cycling safer for residents. Municipal governments plan, fund and build local roads, develop policies that govern community development & growth and oversee the enforcement of the rules of the road, amongst other things. Similarly, school boards are responsible for transporting students to and from school each day. If we want to have a bicycle-friendly Hamilton, we need our elected officials to prioritize cycling. Cycle Hamilton reached out to candidates for office to discuss cycling opportunities and challenges. We hosted an online survey which received a 76% response rate from candidates for municipal council and a 43% response rate from candidates for school board trustee. Amongst those elected to municipal office 14 of 16 (including the Mayor) participated in the survey and identified cycling as a priority. Support for funding the implementation of the Cycling Master Plan was high, as was support for taking action on Vision Zero.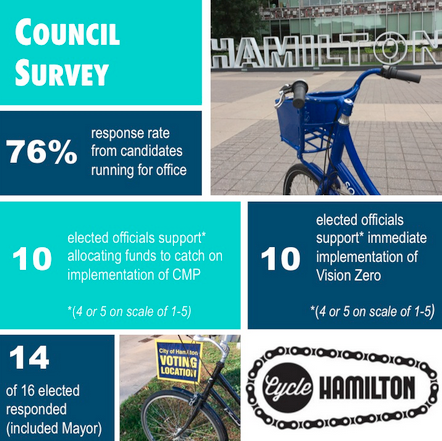 7 of 20 of the elected school trustees completed the survey. Those who responded were supportive of implementing Vision Zero and of taking walking & cycling into account before closing schools.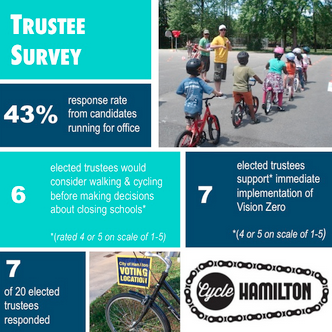 Cycle Hamilton also worked with volunteers to host a series of bike rides for candidates. We hosted rides in 7 of the city's 15 wards and had 30 candidates attend, 5 of whom were elected to office. The rides were a great opportunity for candidates to hear directly from residents about what it's like to ride a bike in their area — and the ways they would like the cycling experience to change.