As part of 100in1 day, Cycle Hamilton is staging #HammerKart – an intervention to call awareness to our current strengths and deficiencies in our bicycle infrastructure to get people talking about cycling and to promote the value of fun in riding one's bicycle.
Why #HammerKart?
In recent years the City of Hamilton has made great strides towards creating a safe, healthy, and connected network of cycling lanes, trails, and infrastructure throughout the city, including:
Cannon Street Bike Lanes: Installed in 2014 and the result of a collaborative and positive grassroots campaign that worked with city councilors, local organizations, and residents, the two-way Cannon Street bike lanes are an example of healthy, positive change in our city.
SoBi Hamilton: With an official launch earlier this year, SoBi Hamilton is a self-sustaining bike share system that was launched through coordinated support from the City of Hamilton and the Province of Ontario. Already off to a great start, SoBi Hamilton is opening up cycling possibilities to new riders—young and old—across a large part of our city.
Bike Month: Supported through a collaboration between Cycle Toronto, the City of Hamilton, and Smart Commute, Bike Month (currently underway!) is a way to celebrate cycling culture and community across the Greater Toronto and Hamilton Area. This annual event provides an excellent opportunity to celebrate cycling across our city!
These are just a few of the many great cycling-related initiatives happening in and supported by the City of Hamilton. To celebrate these achievements and to build on this momentum, Cycle Hamilton's #HammerKart intervention aims to highlight the many great pieces of our existing cycling network, applauding the community groups, organizations, and governments that have worked together to see them through. As our goal is to develop partnerships that can continue to build on these successes, #HammerKart will also highlight areas that we can improve upon by working together.
How It Works: Building on Your Feedback
Over the last 2 weeks we sought feedback from cyclists across the city on the strengths and weaknesses of our current cycling infrastructure. Using an interactive online map, we encouraged cyclists from all over the city to provide detailed feedback on what they love and what could be improved. We were overwhelmed by the positive response we received and will use this feedback to directly inform our work going forward.
To get us started (and to have a little bit of fun as part of 100in1Day Hamilton) we wanted to share highlights of this feedback with the Hamilton community in an active, safe, and healthy way—#HammerKart!
Building on the age-old classic, Mariokart, we've placed a fun set of symbols in temporary chalk paint across the city….and we want you to help us highlight them!
Find the Following Symbols

Mushroom = Super Cyclist: This area or route is optimized for cyclists and riding here gives you a boost!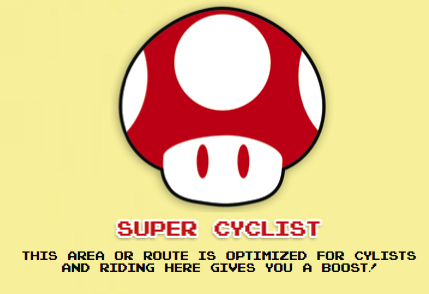 Star = Great Route: Yay! This route has positives that make riding safer and more convenient for cyclists.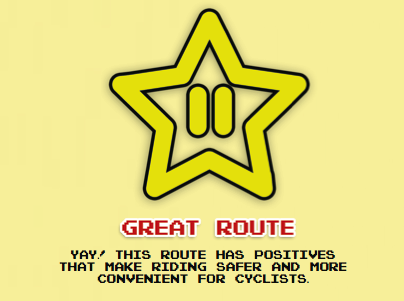 Banana = Rough Riding Ahead: Potholes abound! This spot could be corrected to improve the quality of the pavement for better and safer riding.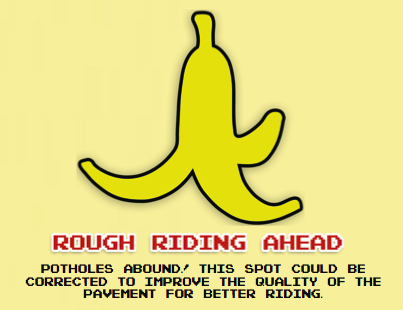 Red Shell = Danger Zone: Take extra caution in this area. Adding well designed cycling infrastructure would improve safety and ease of use.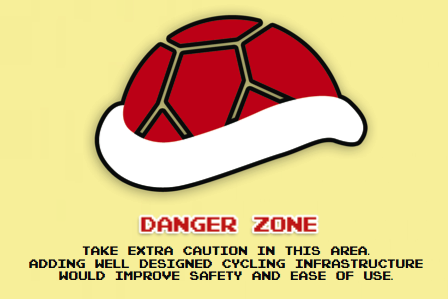 Go Multi-Player, Help Us Celebrate & Improve our Cycling Infrastructure!
Our dedicated team of volunteers has placed these temporary symbols throughout the city. They've been placed away from intersections so as to avoid any confusion with traffic markings or signals, and are about 9×9 inches. To go multi-player and have some fun celebrating our successes while identifying areas we can improve upon, we encourage you to do the following:
Keep your eyes open for these symbols throughout the city. Small posters have also been placed near some of the symbols to explain #HammerKart.
When you see a symbol, safely stop and remove yourself and your bike from traffic (we want to support a safe and knowledgeable cycling culture!).
Take a picture of the symbol from the sidewalk (or trail)
Share the photo with the #HammerKart hashtag and tell us why you ride!
Keep tweeting, posting, and liking from June 6-13, there will be prizes for the most/best photos shared at the end of the intervention. The game starts now!!!!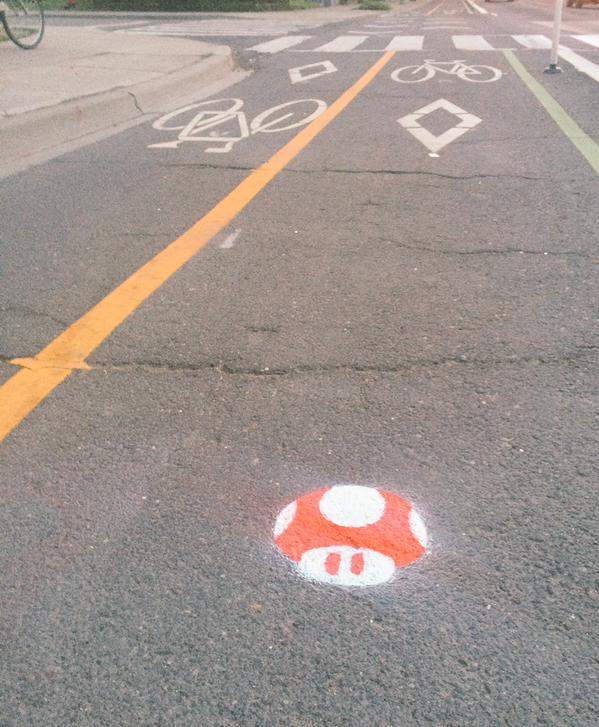 Find Cycle Hamilton on Facebook, Twitter, and Instagram and help us celebrate the City of Hamilton's cycling culture while we also identify areas we can work together to improve upon as we foster a healthy, safe, knowledgeable and collaborative cycling culture in Hamilton.
This intervention is part of 100in1 Day Hamilton.
Cycle Hamilton is incredibly excited to build on the great work done by so many leaders in multiple organizations, community groups, and within the City of Hamilton. We look forward to using the momentum from #HammerKart to build up to an official Cycle Hamilton launch in September 2015.
Questions, Comments, or Feedback? Please feel free to email us at cyclehamilton@gmail.com.